Hello beauties,
Looks like that my most recent purchases, were impulses that I had. Because today I'm bringing you the review of one of those product that I didn't intend to buy but after a second I had it on my hand. In my defense, this was bought after a sleepless night (a pharmaceutic will understand).
Imagine this scenario. You spend all night alone inside of a pharmacy full of skincare and makeup products without having the chance to sleep. In the early hours of the morning, you look into the mirror and you almost get scared because you look like a zombie. You have a concealer in the bag but you forgot the powder that was almost at the end and you are not going home after the shift. Well, I think that you can understand, right?!
The powder that I bought is the Filorga Flash Nude Poudre.
It's not a secret that I love Filorga, I never tried a product of this brand that I didn't like and I wish that I had more money just to use Filorga in my skincare and now makeup routine.
Filorga launched this year their first line of makeup, it's constituted by a foundation available in 3 shades, two primers, and a powder.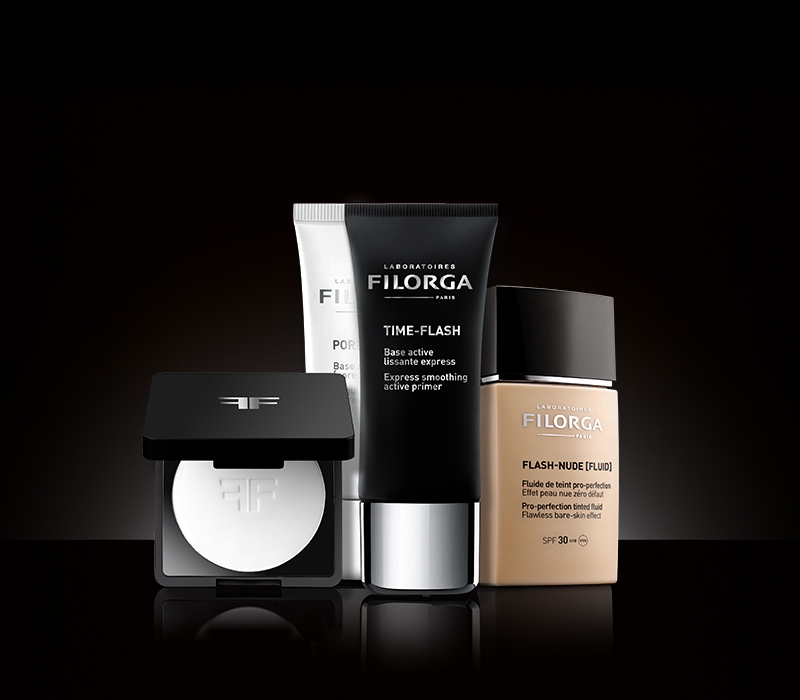 I want to try the rest but now let's not elongate more and ditch every aspect of the Filorga Flash Nude Poudre.
---
Pro-Perfection Translucent Powder
Flawless Bare-Skin Effect
---
It's defined as a universal compact powder with a double action ( flash and long-lasting), to perfect and enhance the skin aspect.
The Flash action is given by the action of the technology "Perfect-blur"; This blurs the irregularities, even out the complexion, mattifies and also because of a special ingredient that is Hyaluronic acid it doesn´t dry the skin and helps hydrating.
The long-lasting effect is given by a regenerating marine active ingredient that will smooth the skin, tight the pores, even the complexion and give more radiance to the face. This effect will last all day.
This invisible powder also has a bonus, is not just make up but it has also a skincare effect, because it has ingredients that help repair the skin and protect it against daily aggressors as blue light, pollution and infrared.
Because it is makeup and skincare in a powder, it can be used after the application of our daily skincare routine or after makeup, using a brush in the entire face or in spots. If you need it can be used during the day to a flash beauty boost.
My thoughts…
Well, let's talk about why I called it the Instagram powder. If you use the Instagram (if not then you probably are living under a rock) you know the filters that it have. There is a particular one that perfects your skin, and that is what this powder does. I can see from one second to the other the difference in my skin. The pores are less visible, the wrinkles/riddles are smoother and the skin aspect is even, it's like I put a blur filter on my face with the brush.
It's the first powder that I use that doesn't dry my under eyes. And if you follow us for a while, you know my struggle with that area. It's important to refer that this powder doesn't oxidize with the foundations that I tried, but you have to take in consideration that this is not an illuminator powder.
I'm going to try more powders, and there is a specific one that I want because of all the reviews and talk about it that is the famous Laura Mercier translucid powder, but I think it will be difficult to beat the Filorga Translucent powder.
I absolutely recommend this powder. If you are interested, this costs 39,90€.
Update: unfortunately, I noticed when I took pictures at night that the Filorga powder causes flashback. I was very sad but I will not stop using it. if I only know that I'm going to take pictures at night I will not use it or put a powder with color underneath.
(note: this is not an ad, sponsored and does not contain any affiliate links).
Instagram | Twitter | Pinterest
e-mail: beautyworkerslife@gmail.com